The concert was this year's edition of the annual Breaking Barriers festival at Het Depot. The support band was Hagar The Womb from London – very much old school punk. The repartee between numbers was brilliant, and Ruth was lovely to talk to when I caught up with her after their set.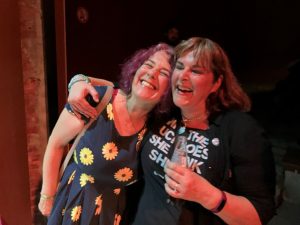 Pussy Riot's performance was not a conventional rock and roll set, more like radical rock theatre, with the band declaiming their poetry to throbbing music and a political back projection with surtitles in English. They told the story of their conflict with the Russian regime, the gig in the cathedral that got three of them arrested, the subsequent trail and the imprisonment of Maria (Masha) Alyokhina and Nadezhda Tolokonnikova. Masha had just escaped from Russia to avoid being imprisoned again for her opposition to the invasion of Ukraine; according to reports she had slipped out of her home disguised as a food courier.
It can't have lasted for more than about an hour but it was intense, and emotionally hard-hitting; I thought that the music was excellent and the poetry remarkable. It was the kind of thing that makes me want to rush out of the venue and start the revolution. However at the end Masha looked sad; perhaps the time in prison had left its mark. The lyrics didn't flinch from the emotional cost of life in a Russian penal colony, for all their defiance. Certainly it's difficult to feel optimistic about political conditions in Russia at the moment, and the asinine decisions to boycott Russian culture can't be helping either. The band finished by calling for donations to a children's hospital in Ukraine.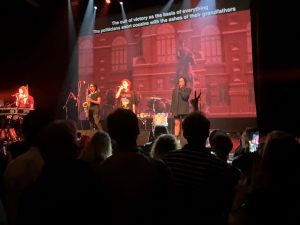 Pussy Riot's Riot Days tour continues. If you get a chance to see it, do go.
Update: Since this was written, Maria Alyokhina has been interviewed in The Guardian (London).